The end of the beginning of e-commerce
We have entered a new era of e-commerce in Asian markets. Just as the region has led the retail growth engine over the last decade, it now accounts for over 50% of the world's e-commerce sales. Today, it is no longer a question of whether people will shop online but rather how frequently they buy and how much they will spend.
E-commerce was always destined to transform retail, but COVID-19 without question accelerated its trajectory. While the first 25 years brought digital access and tested concepts of superior retail experiences, the last year proved necessity and viability. In Thailand, we saw a 58% increase in the number of households buying online while neighboring countries Singapore +47%, Hong Kong +46%. and urban Indonesia grew by 15%. In countries where movement control orders have been far stricter due to COVID- 19 such as the Philippines, the increase was recorded at 325%.
The frequency of online shopping also rose. As an example, there was an increase of 29% in the amount of times consumers shopped online in the last 12 months in South Korea. The even better story in markets such as Singapore where we did not only see trip frequency grow by 11%, but the amount of money people spent when they were shopping online grew by 16%.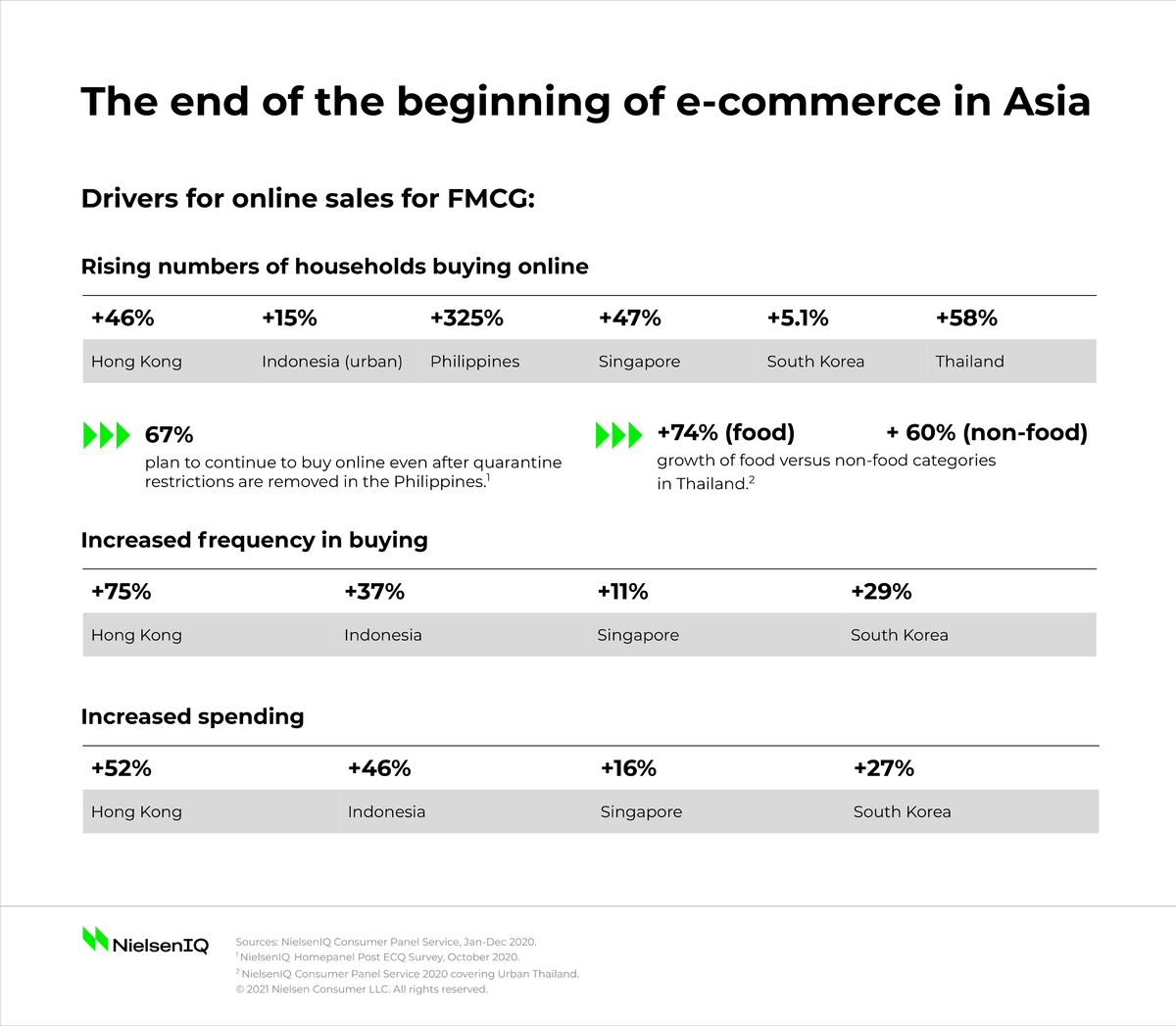 As a result of e-commerce's growth, the power dynamics between consumers, brands and retailers have shifted and digital players like Alibaba, JD.com, and Pinduoduo now sit at the top of retail's food chain. Today, live stream retail is center stage in South East Asia through Shopee and Lazada, and bonds of consumer loyalty and trust are being strengthened through the networks and communities engaged in social shopping.
While the rate of change will vary across borders due to each country's state of digital maturation, what is certain is that almost all the growth in retail fast moving consumer goods will come from e-commerce moving forward.
The next 20 years will bring movement towards a different character of business and a movement towards different ways to address problems, where retail becomes less about logistics and more about pushing the envelope on personalized discovery and curation. It means gaining a deeper understanding; more exploration and less guessing; and an overhaul in shopper discovery. In this next phase, trust is solidified, the shift from niche to necessary happens, replacement of the mundane, exploration of new categories and new use cases that are untapped or even unimaginable occur, and the seamless integration into omni becomes complete.
But the future isn't without its faults: It has some unknowns ahead.
Fragmentation will continue 
The fragmentation of retailing is only going to grow. Even under the banner of one retailer, there are many other resellers using their platforms to connect with consumers. The historical 'hygiene' factors of quality and having a wide range of goods become even more difficult to manage.
Divergent realities 
The delivery of seamless shopping experiences across platforms and channels has created an exciting playground for consumers. The challenge for bricks and mortar retailers is to embrace this technology to create omnichannel experiences.
Redefining the role of the physical store 
Consumers will continue to visit physical stores but if the game is about making people spend more in their store, or bringing in new buyers, they need to go digital and play strongly on their trusted image or the relationship that was built over the years. Adding experiential and social engagement in the mix can help beat e-tailers at their own game.
Fight for attention 
The next phase will be a more fragmented marketplace with new online platforms, retailers and brands. There are several considerations: Are keywords and ads enough to catch and keep the shoppers' attention in the future? How different will the role of price and promotions be? What role will loyalty play in the adopted omni shopper world?
Last Mile Fulfillment Frenzy 
The expectation for convenience and fast is growing steeper. It is no longer about what is feasible but it is about how to meet and feed the appetite for faster delivery services.
Those who rest now will sleep through perhaps the most formative time of growth for e-commerce. The online success story of Asia lies in the deep understanding of the ever-changing consumer behavior and the quickness in providing innovative ways to make consumer lives easier and better. It will continue to be the most critical part of any business especially as consumer needs become more polarized. If you think you know ecommerce in Asia, think again. We stand at the end of the beginning of e-commerce and the best is yet to come.
Reference:
1) As e-commerce starts to mature in Asia, retailers must rise to new challenges. Eye on Asia by Vaughan Ryan. South China Morning Post. https://www.scmp.com/comment/opinion/article/3125272/e-commerce-starts-mature-asia-retailers-must-rise-new-challenges